Offerings for Socially Conscious Organizations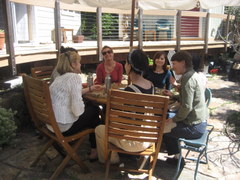 Workshops, retreats and strategic planning sessions for organizations, through an integrative process using positive psychology, appreciative inquiry, mindfulness, and creativity. This model helps the participants to identify their core strengths and gifts, and explores these same qualities for the organization as a whole. It supports the creation of a positive vision that can lead to a productive, collaborative and sustainable environment. I offer this service in the studio or at your site. Call or email for more information.
"Thank you so much for your time, expertise and space. Our board planning session was better than ever."
~ Pam Hartwell-Herrero, Executive Director, Sustainable Fairfax
---